Losing a friend whether it's two or four legs, is always a dull pain. It's hard to imagine how many lonely souls out there were to be warmed by the furry friends and now broken when one day comes home and they are nowhere to be found.
That sadness, also heart-wrenching and empty sometimes it is even too deep to describe. Painful and grieving indeed, yet that is an inevitable natural. Still, those years of walking in the park or hours cuddling on the back lawn with your paw friends can always be recalled.
This post will list out the most meaningful bespoke and pet memorial gifts before anyone's beloved pet's passing. Whether you are grieving pet owners or their friends and their loved ones, this could be a good inspiration for the best gift ideas. These unique and creative memorial ideas for pets can help you ease pain and even find appreciation for the present life.
Pet photo memorial
Life is composed of a series of moments and what is better than having photos capturing your furry friend's special moments and looking at them whenever you miss them? Losing a pet means you cannot see them anymore. So the best way to overcome sorrow is to remind them of memories with their pets through photos. Suppose you are a big picture-taker and love preserving precious moments with your camera.
In that case, this idea is perfect for you since you would have tons of material on hand to work on it now. Besides, you can always personalize it with a quote or a heartfelt seft-written poem to make it extra special.
How to make it? Easy! All you need are some photocopies of your pet (of course), stickers, scissors, cardboard, and let your creativity flow.
Simple yet classic. That is why photos memorial can be our very first option on the memorial gifts ideas list. After all, there are moments worth remembering for a lifetime.
Pet memorial photo frame
Add up to the previous idea, a photo frame is another ideal way to remember a special friend. The frame will be the highlighter for your perfect photo to look back whenever you're lonely, and a good gift idea, too. The custom-on-demand market is growing and there is a wide selection of frameworks for you to choose from. Frame materials will have different styles and benefits when used.
The iron frame is considered in favor of a modern vibe and it is durable. While the wooden one gives a warm-hearted feeling and is less time-consuming to customize. Along with wood or metal, there are still many more alternative materials of your choice.
Additionally, you can choose a folding frame to accommodate more photos and memorable content. Below are some rare and strange models for your reference:
Pet memorial signs
Having the sign with their little cutie paw or picture has become popular than ever. Most of the common pet signs can be customized with a name and dates or have space for a brief message. As being said before, some others might have picture cravings on or paw print to make it personalized.
Variable choices of material from plastic to stone or wooden, and whether the owners love the elegant wood patterns or shiny cold stone, are sure all perfect for home decor and reminisce of their beloved pet. Hang it in your living room or your pet's favorite room as a fitting tribute to the happy memories they gave you
Personalized pet marker
An animal friend is no doubt a family member. To many pet parents, our pets are just as important to us as the people in our lives. So when it comes to saying goodbye, many pet owners choose the burial method for these members just like for humans.
After a pet has crossed the rainbow bridge, but some people are not ready to say goodbye. Many of them like to have their mark to tangle the memories at a special place or just around the corner of the house. Giving your pet a place of honor with a marker is a beautiful pet sympathy gift. But how do you get an appropriate one?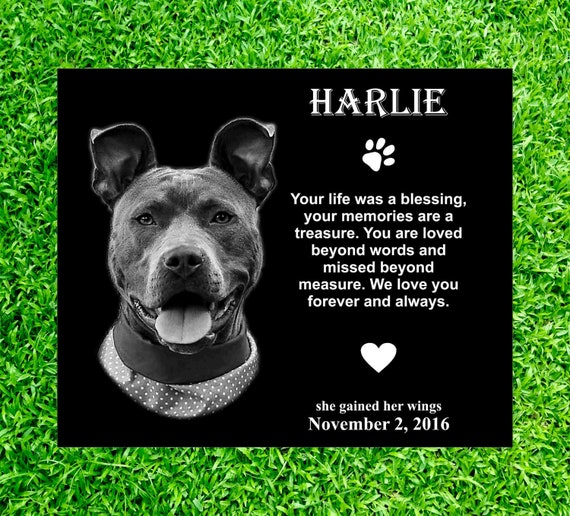 First, consider whether you want it personalized or not. Still, we would highly recommend having it custom-made since no pets are the same. Personalizing your marker can be more satisfying than you have imagined. For instance, get a marker with the wind chime design within it like the one in the picture. If you want to see your old friend's face, then pick a large one for a photo and artwork, or else just go on with a small piece of stone and add a sentimental message. So let your imagination run wild.
Personalized pet remembrance jewelry
There is a diversity of pet memorial jewelry to choose from so you can keep your pet's memory close to you at all times. Here are some of our notable recommendations:
Personalized Paw Print Ring
The pawprint of a pet is like the handprint of a human. Particular pets have one and only one print of themselves. There are services to make their pawprint, yet most veterinarians would gladly take them for free a few hours before they had their last breath. Unique as it might sound, many people have thought of it. So let take a further step and make it become a, having a paw print ring is so much more exclusive and intimate. Once in a while, it recalls the feeling when "paws on hands" that comforts you more than a human hand.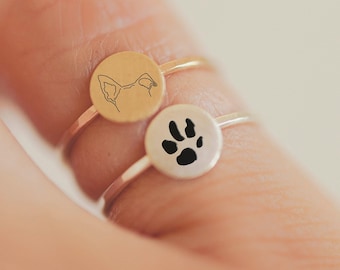 Urn Necklace
If you are decided to cremate your pet then you will need to decide what to do with the ashes. The common way to honor pets is to give them a final resting place on the mantle or other noteworthy spot in the house.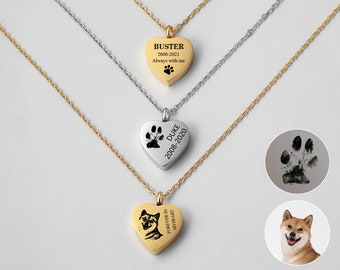 So why not make it into something commonplace? Instead of locking your pet's cremains, in a boring box, make it into a necklace and you can have them every day. This will make your keepsake or sympathy gift even more meaningful. That portable memento can be displayed prominently or tucked away in clothing as a more private tribute.
Pro tip: Urns necklace can also be personalized with your pet's photo and name, with paw sign or claw shape and so much more.
Custom Phone Case
Ever since the 4.0 technological evolution, the cellphone has become an inseparable subject for anybody. Your smartphone keeps you connected with family, friends, while your phone case keeps you connected with the lost one.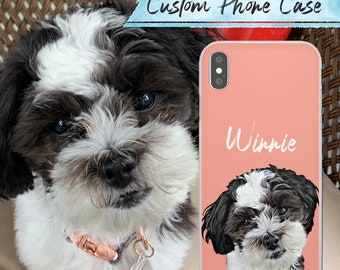 Unlike a t-shirt, you have to change every day, or a portrait you see at home only, a phone case with your dearest pet is coming in very handy. Adding some quotes or a short profound quote can make it more alive. With the typical frequency of using phones, you will see your pet friend so often as it seems they never left you.
Personalized Pet Portrait
We all know, after pets, art is the second-best thing that can heal souls. So why not put two in for one to have the prime combo. Stop mourning and start celebrating your pet's life now by immortalizing them in the form of a work of art. This gift will require you a certain amount of attention and time when it comes to drawing, editing details, and so on.
Yet, when you take that extra step to get your loved ones a gift that celebrates another of the most important relationships in their life, it honors both of your bonds. Not to mention that having them made is not that hard. All you have to do is provide a photo to the artist who will then create the portrait or a price fractional option: have a photo of the pet print on the frame. Both would work smoothly.
Personalized Blanket
After a long hard day, there's nothing quite nice like snuggling up with your favorite blanket but when you personalize a blanket with your beloved pet on it, it could bring the coziness as you always be wrapped in their furry embrace. From that being said, a cuddly soft blanket is a great way to remind you how it feels when having adored pet in your bed every night and day (sometimes 😂). So quickly have a custom fleece blanket with your pet memories on. We think this will make them know that now when they are personalized place, you are also in a warm and cozy place, too.
"Forever In My Heart Dog Blanket" Collection (dog breed and name can be personalized)
"Life Is Better With Dog" Collection (dog breed and name can be personalized)
Cat memorial gifts
Personalized poster for cat lovers
Cats have always been known for their cold and emotionless image. But to all cat lovers out there, we know that our feline friends can are able to sense our moods and we love them for that. When the time comes, having to say goodbye to them is the hardest thing. 365 Fury understand that and help you celebrate the life of your departed purry friend.
You can feel the nobility like an elegant aristocrat from this poster, your cat's supremacy over you, just like they did when they were still around. This rustic and medieval vibe from the poster is perfect to be displayed at your bar corner, where you usually have one or two glasses of whiskey and reminisce them.
>>> SEE all memorial posters here
Cat Bookends
We all know a friend who is obsessed with their pet, but let's be honest cat lovers seem to be on a different level. Have a friend that loves cats and also happens to be a book-lover? Well, they would be thrilled when receiving a cat decorative bookend. When time passes and sorrow fades away, this gift is perfect for a reading afternoon.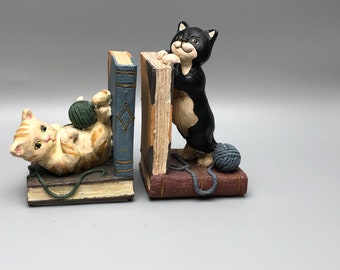 As you enjoy the gentle breeze and the bitterness from a cup of tea, it brings back those gentle afternoons with your soft purry friend. This cat shape bookend has both decorative standards and is imprinted with spiritual value.
Cat throw pillow
Losing a pawed friend, a cat owner loses someone who shares feelings. They will miss them and miss the feeling of having them in their embrace. If you are feeling that way, then congrats. This is perfect for you. Our cat throw pillow can ease down the inner pain with soft and squeezable features.
Cats Rabbits Conversation Pillow (name and breed can be personalized)
This can bring extra cozy movie nights of cuddling up with this pillow and recall of your furry friend. Plus, when presenting this on your sofa, in bed, or even in the garden, this pet throw pillow can still make the whole space lively. Make your cat into a pillow today, as a pet memorial gift for yourself or any cat-lovers friends.
Pet Memorial gifts for dog
Personalized dog memorial stone
Creating an honorable, dignified bespoke for your dog with a personalized memorial stone is a good gift for yourself or any dog owner out there. Popular than ever before, the trend of using Feng Shui to harmonize individuals with their surrounding environment. The use of stone for decoration is part of it. For a dog lover who is going through grieving, having such a delicate gift to remind them of their lost furry friend might be very impressive. So, you can kill gemstones two birds with one stone.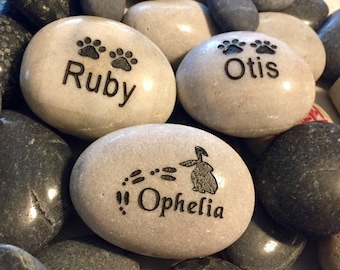 Memorial stones can be carved into many different shapes and sizes. This dog pass-away gift can be customized for many purposes from simply displayed inside the house to outside in the garden, from rock paperweight to real-size dog, etc. Adding pictures or inspirational quotes can be such entertaining addition. Just one small note for the gift finders: if you choose to follow the outdoor decoration item, don't forget to consider the water-resistance factor and the durability of the stone.
Pet memorial dog tags
The dog tag is another choice of sentiment in our dog remembrance gifts list. Dog tags are inseparable from killing some dogs since they are the fastest way to identify your dog and ensure their quickest return if they go missing. It could be a nice idea to keep something of your lost dog. In case you lost it or the tags were too simple, you can have it custom with some quotes or a picture of them.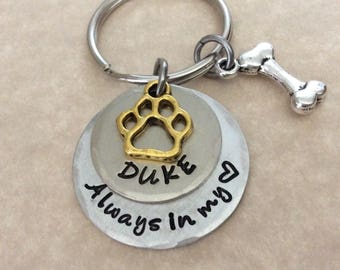 Pro tip: You can always turn your dog tag into the necklace charm and have an extra option for displaying a silhouette of a pet with you all the time.
Personalized dog memorial jewelry
As an extension of pet memorial jewelry, this part will include some other surprising ideas for you.
Charm Bracelet
Many pet owners are fashion-conscious and their love for accessories is as much as for their furry friends. So why not give them something shiny to show their pet love. Don't forget to add a little personalized element and make it exceptional right away. Who doesn't love the simplicity of the sterling silver/gold dog bone charm?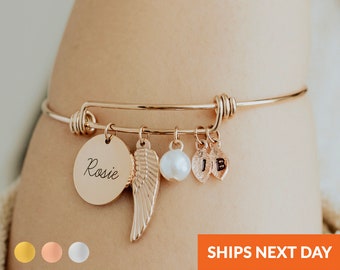 It'll leave onlookers in no doubt of your love for dogs. If one charm is not enough then team it with many more such as names tags, pawprints, etc. As long as it is personalized for you and your dog, you'll have a unique bracelet that's both beautiful and reminiscent of paw friend.
Urn memorial dog ring 
Sad news that: Dogs are gone now so diamonds are still girl's best friend. Besides putting your pet cremains in the necklace as mentioned above, having them in a small diamonds ring is such an exclusive present. The cremated ashes from your beloved dog will be scattered inside the diamond or you choose any kind of gem such as topaz, sapphire, ruby,.. for customization. And don't worry, the diamonds used to make rings can be made from much more wallet-friendly materials. Thank you for the technological improvement, now we can own cheap meaningful gemstones with the same enchanting beauty.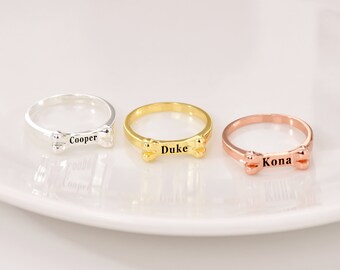 Dog Parent Mug
Last but not least, Dog Parent Mug! We have to keep this list of gemstones for our number one honorable mention. It is a fact that pet lovers love to show off their paw friends even when they passed on. Showcase the loving time with your dog by dog personalized mug collection. Our brand coffee mug will surprise people how much dog parents adore their fury babies even when they are gone.
Customized dog cups can be a safe and ideal gift for both single or couple dog owners. You can add cheerful messages or some hilarious, adorable memes of the dog being cute. This dog memorial idea is bound to leave no red eyes in the room yet still serve as a reminder of specific moments you have shared. Plus, it could be tempting to kick the day off with a coffee in a personalized pet mug where you can get compliments from fellowship all the time.
Letting your pet memories lives on fur-ever!
Hairy or scaly, big or small, your pet friend has been with you for a long time, through every thick and thin. No matter how hectic life is, always take time to remember this friend, this past time. As we write this article, we celebrate the lost pet with you. Hope these ideas can help you keep the memories in your heart. These creative ideas will they'll cherish as long as you cherish your fuzzy friend's memory.
---