We all get busy with our work and rarely have time for pet grooming. Having your pets professionally groomed is a wise solution that saves you both time and energy. The dog groomer is the person everyone trusts with their pets. However, pet grooming is a difficult task that needs a great deal of attention and patience. Dog groomers are usually surrounded by a swarm of noisy, aggressive, and uncooperative dogs. Professional dog groomers make a great effort to ensure your pets always look their best.
If you have a dog groomer who does an outstanding job, you should definitely thank him for their efforts. A gift that shows you care about his work and his love for dogs will be a perfect choice. Let's take a look at our 14 unique ideas for dog groomer gifts that we have pulled together for you.
Dog apron – dog groomer gifts
A dog apron is a necessity for any dog groomer because of its hygienic purposes. It acts as a protective barrier that prevents groomers from getting dust, dirt, hair, and water on their inner clothes. Some aprons come with pockets that enable groomers to handle small things while taking care of their pets.
The "Belidome beagle dog" apron, made from high-quality polyester, is comfortable, lightweight, waterproof, and durable. Different sizes are well-designed for men, women, and teenagers. It covers from chest to knee and provides great protection for your clothes from spills and stains, heat, and water. There is a convenient pocket in the front for holding a phone, comb, tissue paper, etc.
(Amazon)
Personalized dog TShirt and sweatshirt
Wearing a dog shirt is the easiest way to show great love for our four-legged friends. And dog owners usually put trust in a groomer that is willing to take loving care of their pets. They will be attracted to impressive pictures or quotes on the shirt. A shirt with funny dog stickers can cheer up clients' moods and enthusiasm.
Dog groomers now can easily demonstrate how they value the fluffy pet with this personalized "Dog in pocket" basic tee from 365 Fury. The thicker, heavier but soft cotton material apparel can go with almost any outfit. Different sizes and colors are available. Let them know you are a loyal customer by customizing the name of your dog!
(365 Fury)
Keychain – dog groomer gifts
Keychain is a small and useful commodity that is widely used for decorative purposes or to keep keys gathered and secure. It is a lightweight and inexpensive item that can be given out as an eye-catching gift to any person. You can also customize the key hanger with engraved names or fun messages.
This handmade "Dog groomer" keychain is convenient, lightweight, and durable. The item is made from silver, stainless steel, and birthstone with laser engraved patterns. The personal touch of a birthstone and initial will definitely please your dog groomer.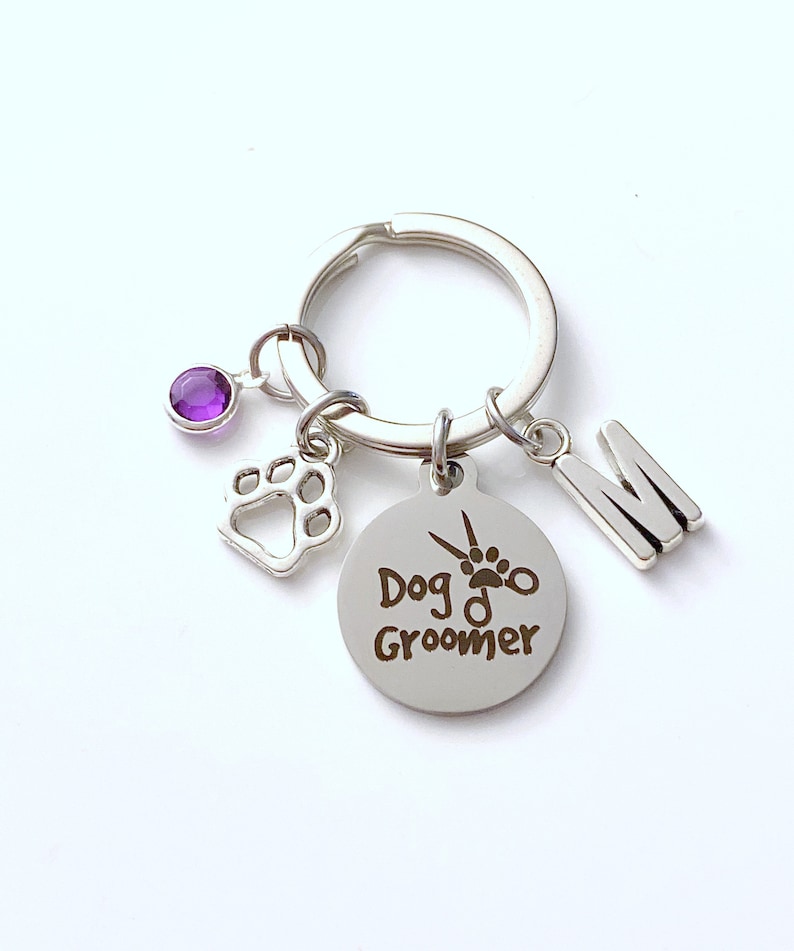 (Esty)
Personalized Dog Coffee mug
Dog groomers need the energy to work hard all day. A cup of coffee is exactly what they want. So, it is a perfect idea to appreciate their work by buying them a unique coffee mug. A personalized coffee mug makes an affordable and memorable gift for any dog groomer on any occasion.
"Life is better with dogs" coffee mug from 365Fury, made of a high-quality ceramic mug, is safe for dishwashers and microwaves. You can personalize almost everything printed on the mug, from the background, the man's name and his skin color, hairstyle, clothes, and the number of dogs.
(365 Fury)
Personalized Dog Doormat
The doormat is a necessity in front of any dog grooming salon. It absorbs outside moisture and scrapes off dirt, keeping the floor always clean. Using a doormat prevents scratching, staining, and other problems which require expensive floor maintenance. Along with protecting the floor surface, a doormat with a creative design and fun message also impresses clients.
Take a look at the "Wipe your paws" personalized welcome mat from 365Fury! Your dog groomer surely wants to dress up his front door with this cute entrance mat. Made of high-quality velvet, this item is durable and easy to clean by vacuum, broom, or shaking off. You can customize the number of dogs, their name, and their appearance.
(365 Fury)
Book for dog lovers
Dog groomers love dogs! And a book with funny or heart-breaking stories about our loyal friends is an excellent gift for any dog lover. Dog groomers will surely enjoy such stories in their free time and be more dedicated to their job.
"Lily and the Octopus", written by Steven Rowley, is a touching novel about the purity of love between a man and his dog. The story is joyful, and also a tragedy that invokes the pure friendship between humans and animals. The writer's sense of humor will impress and appeal to your dog groomer.
(Amazon)
Dog plant pot – dog groomer gifts
Plants decorate your space, purify the air, and give you the energy to work hard all day. Having a pot with flowers or succulents is an ideal way to brighten your home or workplace. Plant pots can go anywhere: on pavement, a window sill, or up a flight of steps. Pots with succulent plants are especially an excellent gift for busy people like dog groomers because they do not have to spend much time watering them.
This cute "Corgi dog planter pot" is made of ceramic with a water drainage hole in the bottom. It is molded by hand using high-quality polyresin ceramic that is beautifully, evenly glazed, and durable. Your dog groomer will absolutely love it!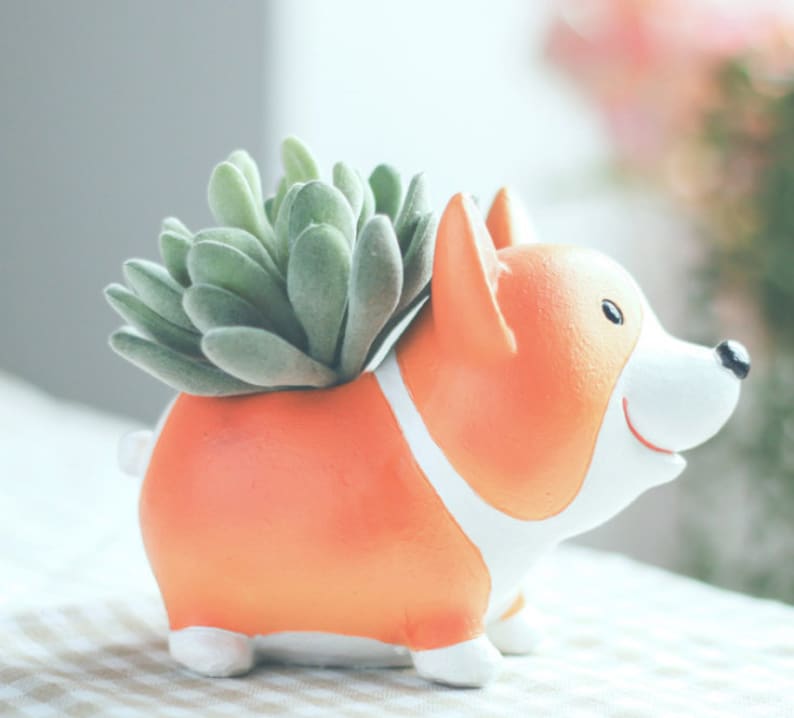 (Esty)
Wall clock – dog groomer gifts
Dog groomers get busy with their work almost every day. A dog-themed wall clock is a perfect item to help them manage and schedule their time. Wall clocks are a great investment not only as a timepiece but also for cosmetic reasons. A wall clock can fit any decorative piece and brighten the room.
The "Pooch Parlor Grooming Salon" personalized clock would be a perfect appreciation gift. This round wall clock from Zazzle is vibrantly printed with an HD acrylic print process to ensure the highest quality display. You can personalize the gift by adding artwork, photos, and text. It makes a great gift idea for any dog groomer, and also a great addition to any home and salon.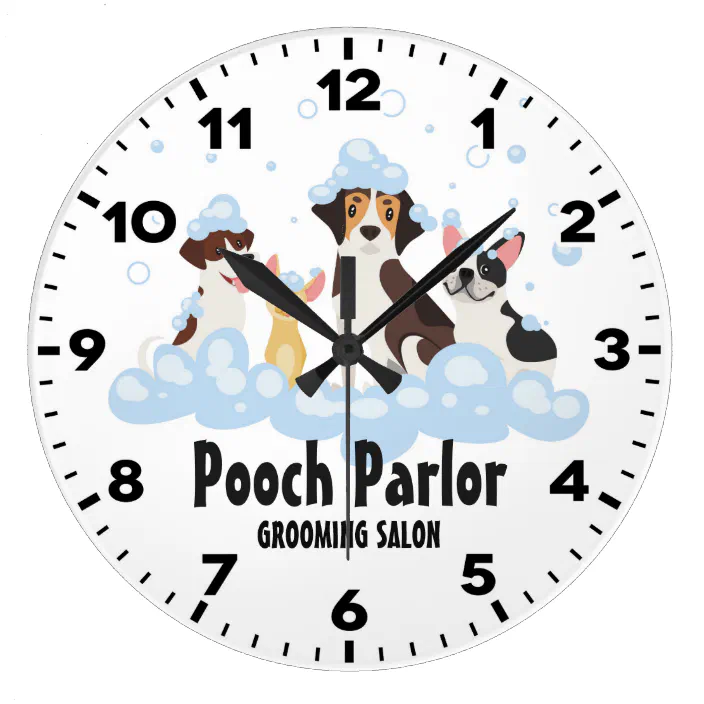 (Zazzle)
Tote bag
Your dog groomer may want to find an item with long-term durability to store their stuff. A tote bag will be a great gift! It is made of natural materials, without any chemical substance. Fabric bags also withstand greater weights and long distances. They are fashionable items that are usually printed with unique texts or photos.
Made of vinyl font and durable zippered canvas, the "Professional dog groomer" bag comes with a convenient inside zipper pocket. This handmade tote bag is a perfect gift for dog groomers to promote their business and attract clients everywhere they go.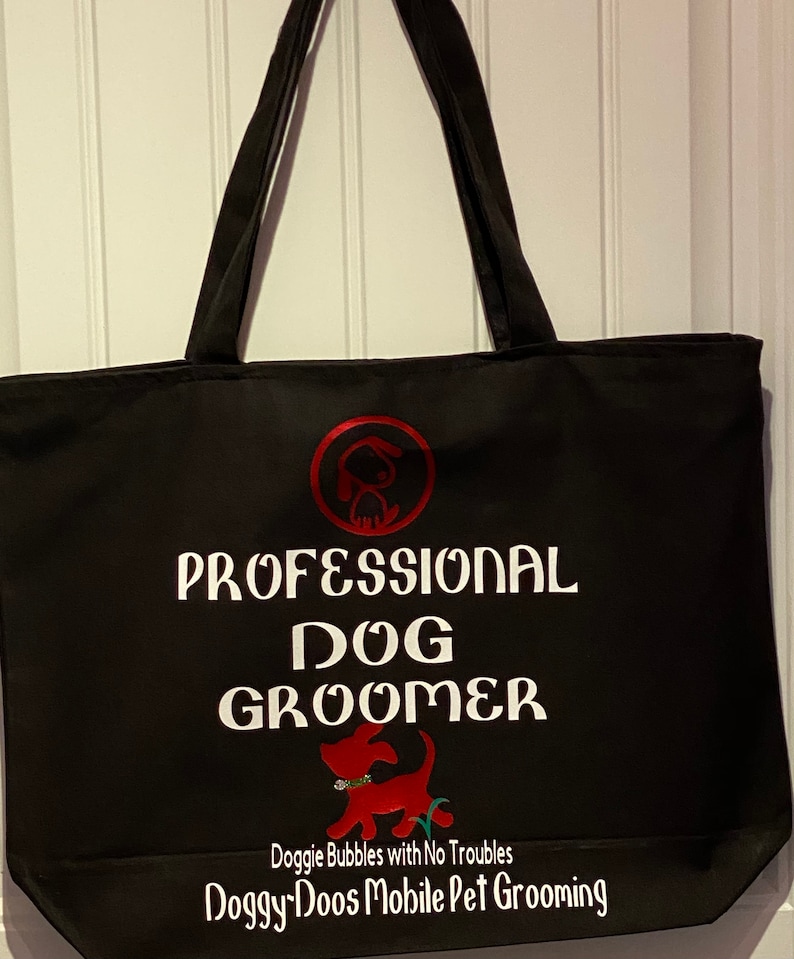 (Esty)
Bracelet
How about appreciating your dog groomer with a unique bracelet? Bracelets help them to look more stylish and add a nice touch to their look. Don't worry about the price: you can choose a stainless steel bracelet that costs far less than a gold or a silver bracelet. Despite its cheaper price, this type of jewelry is not of less worth.
This adorable "FOTAP dog groomer" bracelet is made from hypoallergenic stainless steel which is safe for sensitive skin. It is hand-printed with the words "It Takes A Special Person To Be A Dog Groomer" and has the charm of a designer hairbrush.
(Amazon)
Shoes
Dog groomers are on their feet all day. So having a comfortable pair of shoes is essential while on the job. Sloggers make a useful gift that delights your pet groomer.
Let's see this "Slogger waterproof rain and garden shoes". The sloggers have adorable paw prints on them and a removable "All-Day-Comfort" insole to ensure dog groomers are in super comfort. They are made from recyclable and non-latex materials. Several sizes and colors are available.
(Amazon)
Hand moisturizing cream
Dog groomers often get their hands dry after washing and grooming dogs all day. So a set of hand moisturizing products, including hand cream, is a thoughtful gift for any dog groomer.
This "Burt's Bee" gift set includes an almond milk hand cream, a shea butter hand cream, a lemon butter cuticle cream, and cotton gloves that help you easily let the lotions soak in. Hand creams repair tough, dried-out skin from the harsh winter months while the cuticle cream revitalizes torn, rough cuticles to moisturize and sooth hangnails for soft, smooth hands.
(Amazon)
Grooming scissors
For any professional dog groomer, scissors are a necessary tool to keep your pets scruffy. A pair of sharp, safe, and high-quality grooming scissors is a practical present you should take into consideration when buying a gift for your pet groomer.
The "Sharf professional rainbow grooming scissors" product is stainless steel shears that have blades tempered with precision and an ergonomic handle to turn grooming into a faster, easier, and more efficient task. They also come in a handy carrying case for safe storage and easy transportation. Sharp professional grooming scissors will enhance accurate use, providing pets with a well-groomed look in a fraction of time.
(Amazon)
Tumbler
Stainless steel tumblers are so popular due to their affordability, durability, and convenience. You can easily clean them well as new ones by scrubbing them with soap and water. Dog groomers are busy people. They will definitely be happy if they get a tumbler with pet photos as a gift. Bringing a bottle will save several trips to the convenience store and help prevent dehydration. 
This "Tervis flat art dogs stainless steel" tumbler is printed with eco-friendly plant-based inks directly on the stainless surface. Its triple insulation reduces condensation and ensures excellent temperature retention. The material does not retain uncomfortable tastes or odors. Printed with adorable emojis, the gift will cheer up your dog groomer's mood once they see or use it.
(Amazon)
A final word
Pet grooming is never an easy job! So buying an appreciation gift for your trustworthy dog groomer is always a thoughtful idea. After reading through our suggestions, you probably have even more ideas of your own about great gifts for dog groomers. They will truly appreciate the dog groomer gift if it suits them, no matter what its price is.
---