Coming up with the perfect wedding gift isn't always easy and it might be extra hard if you have to narrow wedding gifts for dog lovers. To the soonly weds, this is a turning point for them. This is when they are ready to tie the knot and start a new family after going through many thick and thin.
In this case, your person is a dog-lover, so there's no better way to celebrate this special occasion than giving them an unforgettable gift that involves their dearest furry friend. Now, a tough question pops up: what can you give them that stands out from the registration list but is still meaningful to them and their dog?
No worries, we have looked through so many lists and synthetic some of the best options for you. We include diverse ideas from traditional stuff to unique personalized presents that your friend can't find in a department store.
Personalized Pet Pillow
Let's start with our favorite one: a personalized pet pillow. Admit it, all couples love their cuddling, sweet time in bed. Waking up in the morning, kissing your spouse, having a little time "throw and catch" a pillow with your dog is the loveliest way to start a new day. It's also perfect to use while lounging on the couch with their partner and their pup!
Plus, 365fury pillows make the perfect home decor for your friend and partner. We completely understand you'll want a one-of-a-kind gift, so personalized details are always on point. 365 Fury gives you various choices of colors with lots of designs that match with many different vibes. Dog breeds and names, hair colors, skin colors can all be customized. Trust me, if you have this for their newlywed home, this will make a statement piece. They will use it so often that soon you will be asked to give another one.
Our details are proudly printed and shipped from the USA; they are luxuriously soft, made from 100% polyester microfiber, the shell sports a clean white finishing; and don't be worried about leaving pawprint on since it is easy to wash. And remember, name, dog breed can all be customized. We promise comfort, coolness, and doggishness for our soon-to-be-wed couple with personalized pet pillows.
Love is being called Pit bull Mom
>>> All personalized Pet Pillows help you enjoin with your pet
Personalized Pet T-shirts for Couple
>>>99+ personalized T-shirts, Pullover hoodies, Sweatshirts for couples
A couple of Mugs
Wedding gift art print
Every couple must have a dozen happy memories together and even more as far as their dogs are involved in it. A perfect tool for capturing moments is photographing so why not create a special art print for those of your friends who are getting married or newlyweds. You can customize for the couple to remind them of some lovely moments you have witnessed or better yet, moments that you wish the couple and their dog will have in the future. Turning all your best wishes into unique art prints would be a heartfelt gift.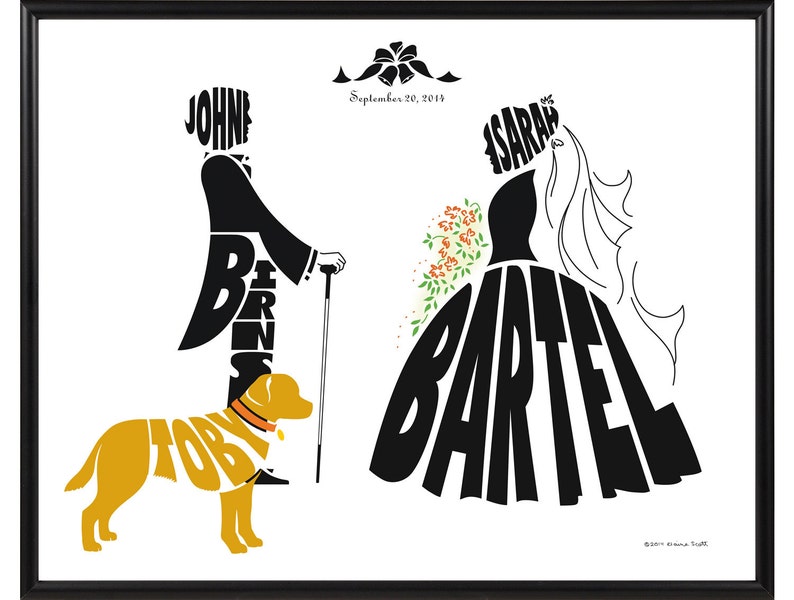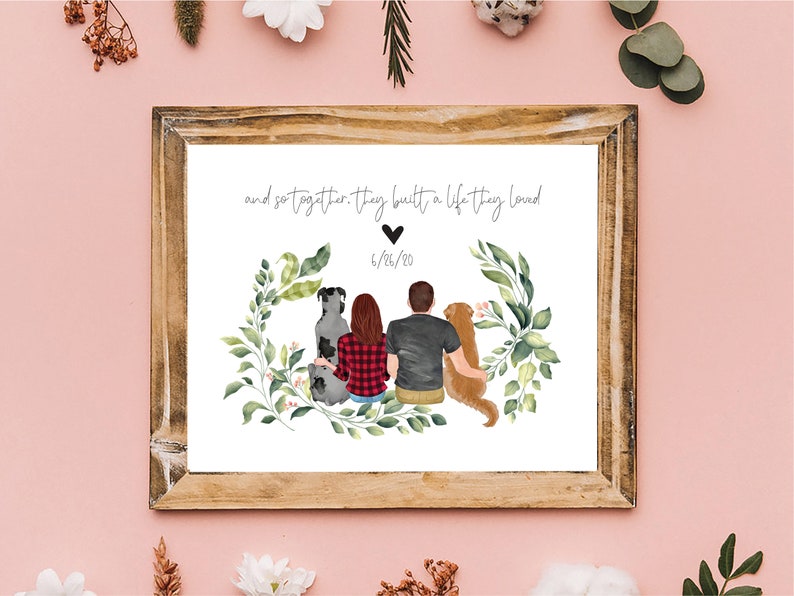 Couple And Dog Personalized Canvas
>>>Claim Trending canvases for couples
Custom Art Pet Portrait
Don't stop at normal art print, take the next step and create an art pet portrait of the couple and their pet. Not as realistic and detailed as printing, but pop art portrait is expressionism towards a cooler, figurative style. This gift would be the finishing touch for the couple's new living space. A gift that is high in aesthetic value and accumulates memories, who could ask for more?
There are plenty of artwork ideas to inspire you online. Names, people, dog breeds can all be customized and you might wanna make it more eye-catching with different themes or short earnest messages. Here is some notable mention for your dog lover wedding gift list: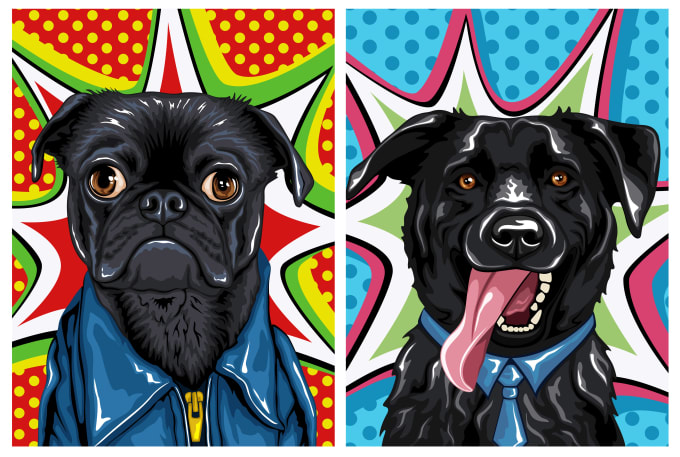 The Veteran – Custom Pet Poster
Dogs Door Mat
Newly married couples tend to stick together all day, but they also look forward to welcoming friends and family to their new, cozy and beautiful nest. When you arrive at a house, what is the first thing you see? The door? No no, the doormat, every house has a doormat cause it is indispensable. A door-able mat with the couple's pet detail on it would be a practical gift. The recessed pawprints or their pet face with a short note: "we just live here" are cute little touches to remind everyone to wipe their feet or paws!
Dogs Wine Glass
Backup wine glasses are not a bad idea, but dog wine glasses bring it to the next level. Give them some of the custom-made glass with their dog's image on it or some fun, a vibrant short message will leave them with some deep impression of your gift. We promise that whenever they have wine and dogs (the best combo for life better), they'll remember you and understand how thoughtful you are.
Coasters
Have a neat friend and he/she is about to get married? Then what is more proper than having coasters as a dog wedding gift for them? Do you know those folks will need that for the new home? This president has more benefits than you might think. Coasters may be small, but they can protect your furniture, especially if it's made from stone, marble, or wood. Giving your dog lovers funny dog coasters newly weds' custom-made set can help them not only avoid annoying water rings from their favorite drinks but can also share a good laugh with their dog whenever they use them.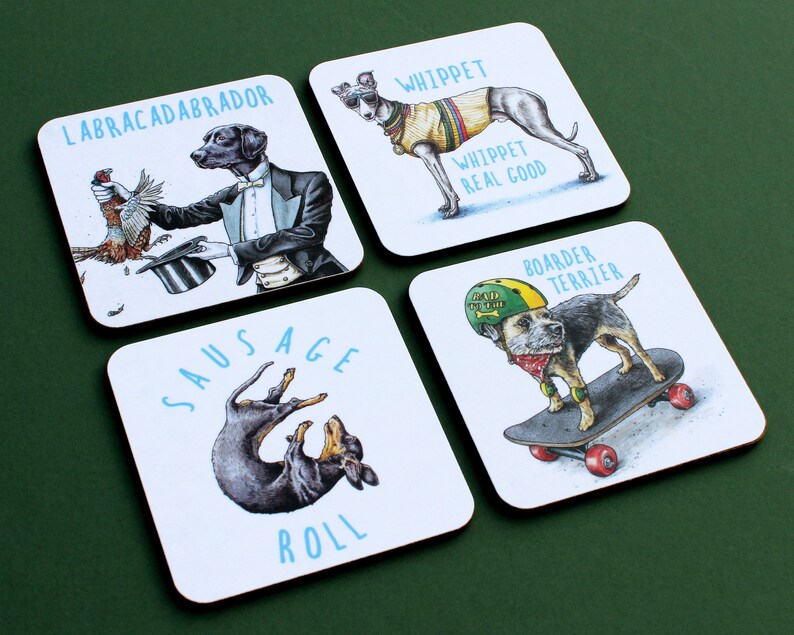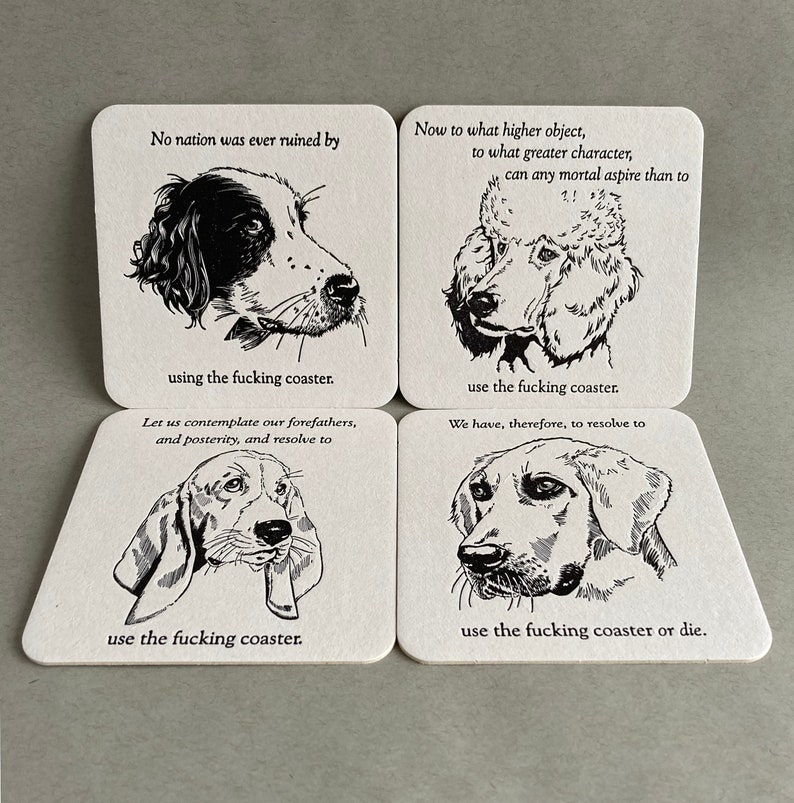 Dog lovers personalized cutting board
Cutting boards say a lot about their owners. So if they are dog lovers, get a personalized dog cutting board for them. Whether your newlywed pair loves to cook or not, they would adore this dog wedding gift. Maybe this custom-made cutting board can encourage them to try new recipes. What are you waiting for? Choose this present and expect a dinner invitation at any time now!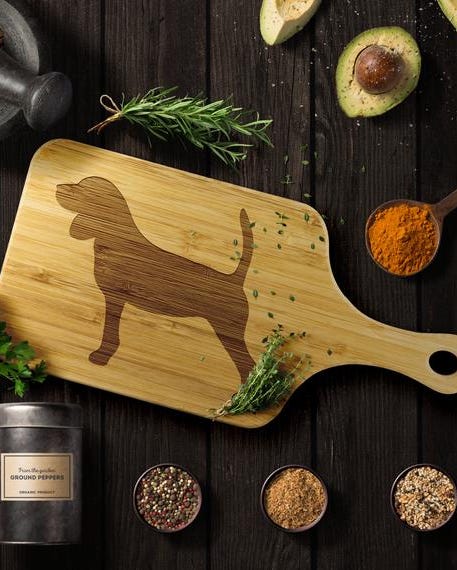 Rolling Pin
Speaking of kitchen amenities, we pop up another creative dog wedding gift for you: paw pattern embossing rolling pin. This, we think, is the pawfect wedding gift for dog-lover-who-also-loves-to-bake. If your married pair are that much of a sweet tooth then they will be rejoiced to have baking time with your pawly rolling pin present.
Puppy Planter
Well, for a typical couple who has a garden, this will be an ideal gift but it's an amazing idea for plant-loving dog couples. Well, this still works with patios, balconies even by the front door. All of these spaces can be brightened up with a simple dog planter. The pup planter itself can be a decorative piece. Add flowers or plants in them then it not only looks good, but it can also increase the morale of the newlywed couple as well. Who knows, it might keep them far, far away from the fight.
Personalized key holder
You can't go wrong by giving your newlywed pair a key holder for their new home. If you're hoping to give the soon to be married plus dog lover couple something that will stand the test of time and be used daily, imagine a personalized dog key holder on their wall. This personalized keyholder is such a real-life example when the little thing adds up to the whole picture. We got some remarkable ideas for you below: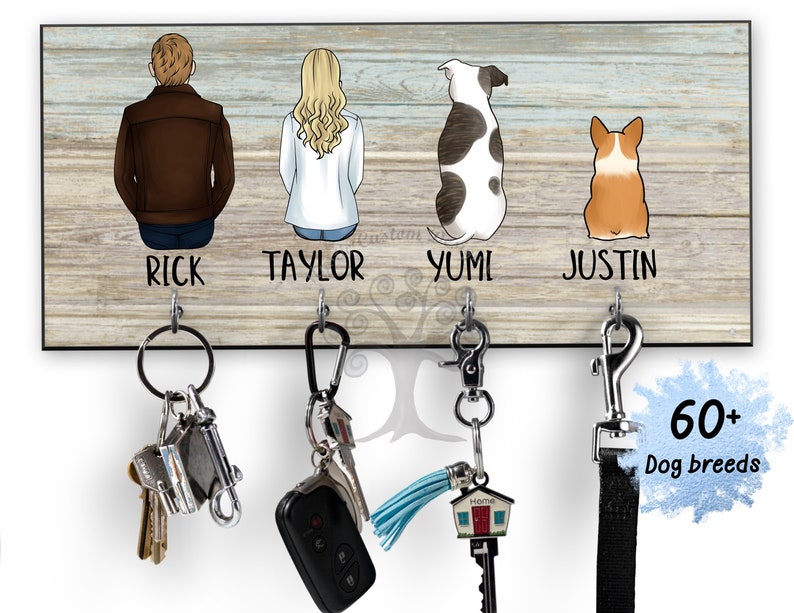 Congratulations to all the newlywed couples out there!
Weddings are a joyful occasion, it makes us believe again that true love does exist and people still find it.  It is even double special when your friend now can be loved not only by a pup but a person as well. Choosing the right gift for the dog lover couple honors both of your bonds.
Glad that you made it to the end! We hope together, your tough question "What is a good gift for a dog lover newlywed couple?" is solved. 365fury team loves to accompany you to share love between people and their pets. Find this useful? Please, let us know so that we have the motivation to share more pet-relatable articles.
Stay tuned and have a terrific day!
---