If you've been around for a while, you will know that we are all about our pets, we love them, obsess with them, and want to show off our love to the world. Special events such as wedding days, of course, we want them to be involved. Unlike dogs with more extroverted ideas, in this post, we have browsed and collected some coolest wedding gifts for cat lovers – your soon-to-be husband and wife friends.
Owl & Pussycat Storybook Wedding Magnet
Any couple who loves felines would adore this Owl & Pussycat Storybook Wedding Magnet. Magnet on the fridge which is a common momento and is used a lot as a gift. Just a little touch with personal details such as name and their special date. Soon, it will be the recipient's favorite gift.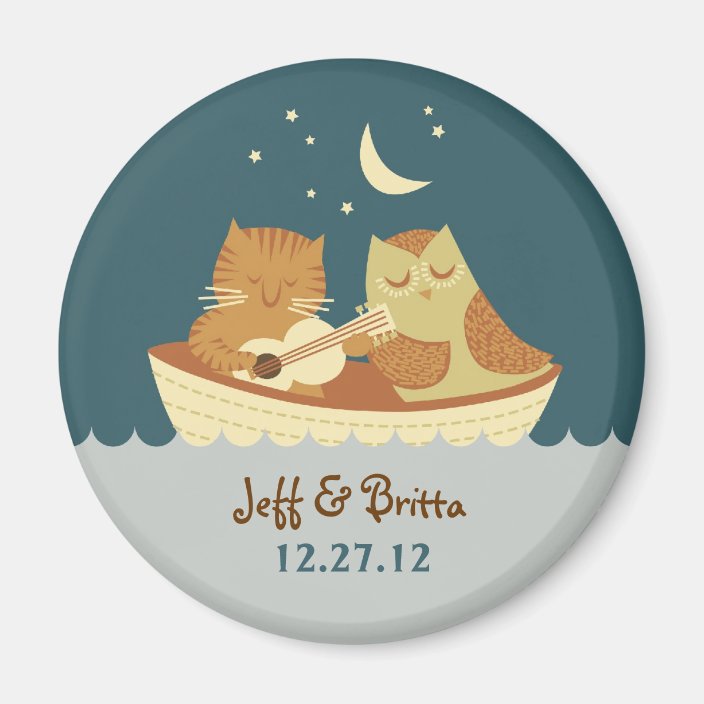 Kiss cat Coffee Mug
This is probably the most adorable his and her gift on the list. These cat-themed coffee mugs are particularly suitable for cat lovers.  Perfect for everyday use and durably crafted of fine ceramic and handcraft cat, very contemporary style.
Another just married couple mug in cat-themed
Just Meowied. Short and simple yet perfect gift for the newlywed couple who also love cats. So if you think the Kissy Kitty Coffee Mug is too cheesy then here is the alternative one.
Personalized wedding cut board
The kitchen is the heart of the home and even if you are not a good cook, a cutting board is still in need. Grab this personalized cutting board to satisfy their obsession with cats and remind them of their eternal love.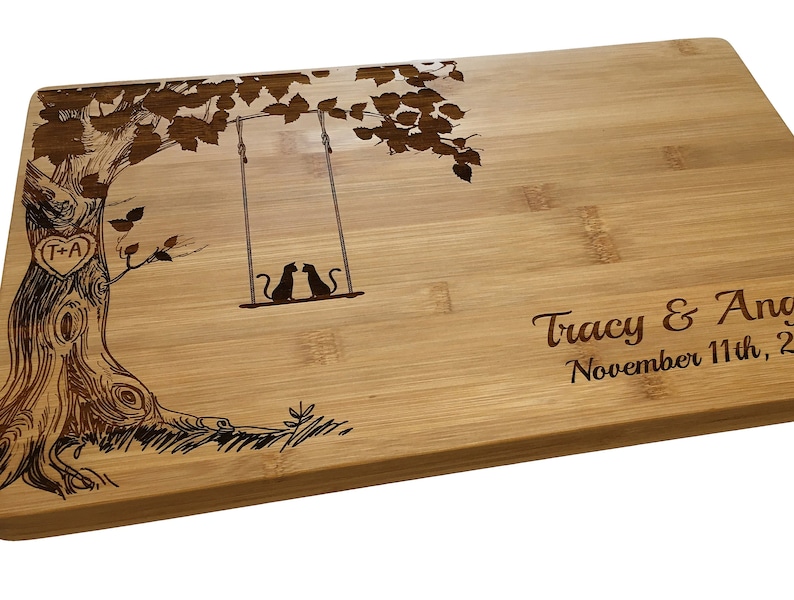 Feline art print
How can you disappoint your friend with this lovely feline art print? The cats represent the couple and the name, the date can be customized. Prints are handmade in the UK with Gallery quality paper, to give a vibrant and traditional finish that lets the artwork shine!
Happen to have a wine aficionado friend who also loves cats? Each stemless wine glass set arrives safely packed in its elegant box and can use both for storage and display. Aside from being visibly appealing, the message "Cat and Wine Make Life Better" even makes your drink time funnier.
Wedding wine box
The splendor of a bottle of wine depends on how it is packaged and stored. Give this to the couple and let them have better wine with their favorite paw-friend.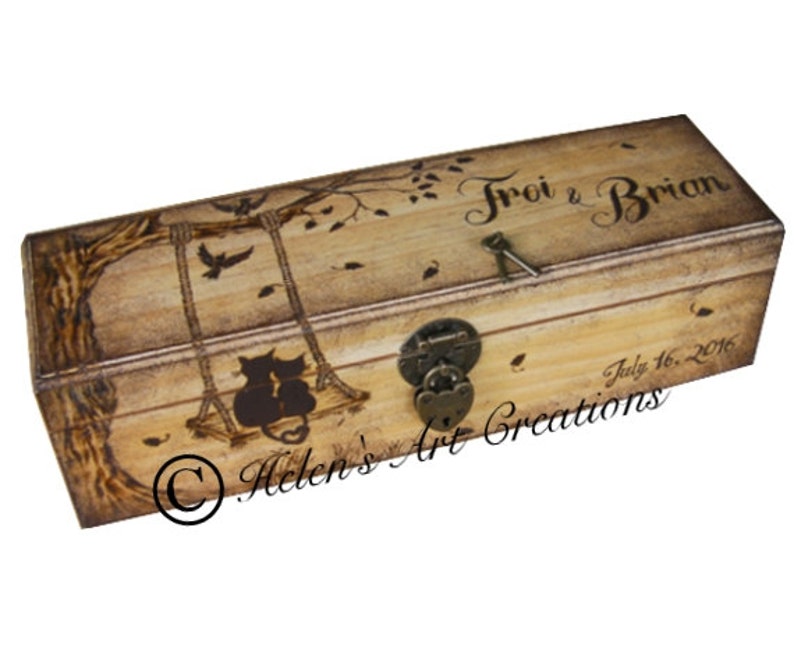 This nice cat dish will be a beautiful and useful acquisition to decorate your home or to make an excellent gift for the bridesmaids at your wedding or the guests. The modern design comes with luxury gold details that will suit transitional home style or weddings relatively.
Cute cat wedding ring dish – perfect choice gifts for cat lovers
For a dreamy couple, you can consider this cat ring dish instead of the above suggestion. This combination of cute and modern can also be customized by adding Initials, a Date, or both to turn it extra special for the big day
Personalized cat doormat
Every house needs a doormat. Let people know what's going on with this funny doormat with personal details such as breeds and names. Your cat owner friends would love to show people how much they love their kitties the moment people set foot on their doorstep.
Decór box for cat people
Surprise a friend with an unforgettable gift. Common but not trivial at all. The soon-to-be-wed couple will be drunk in love at this time. Nothing suits them better than this decor box that says "All you need is love and a cat"
Personalized cat pillow
These cat-themed represent for the new husband and wife pillow will put a smile on the recipient's face. Featuring their adorable kitties with names and special dates. Put this on the sofa, in bed to make a warm-hearted cozy space, or creatively use it as a ring platter on the big day.
Cat Welcome To Our Home Personalized Throw Pillow
You Can Look, You Can Admire Personalized Throw Pillow
Life Is Better With Cats And Books Personalized Shirt
This portrait will beautify their interior space and express 100% of the cat's owners. "A House Is Not A Home Without Cats Portrait Poster" is such an awesome print to remind you how lucky you are to find the love of your life and your feline, of course.
Cat Wedding Same Pussy Forever Greeting Card
Need some good laughs for this heartfelt moment? Get this funny card as the welcome sign to your friend's wedding party or the bridal shower. I bet all the guests will be impressed.
Cat board game
Family time cannot be perfect without board games. Get this for your friend's new family as a wish for joy and laughter whenever they spend time with their loved one.
Cat phone charger
Currently, smartphones have become inseparable objects, the first you reach in the morning and only leave out your hand at night before going to sleep. Well, with such frequency, it soon runs out of battery. But no worries, this Wireless Phone Charger will solve it. The novelty with wood material and cat prints will make this a stand-out from other wedding gifts out there.
Cat Kitchen Timer
I know kitchen timers aren't that popular anymore since we have our phones. Yes, you can carry it around with you, but it can be a pain to pull it out of the pocket and touch to see the remaining time, especially if you are in the middle of cooking. This cute idea is available on Amazon with free shipping for Prime members.
Cat salt n' pepper shaker
Everything tiny is so cute, this applies to this cat salt and pepper. Plus, it also has a magnet that will keep both shakers together cause you know salt always comes with pepper, right?
Cat neon light for the bar zone
Browsing gift for the partying couple? The waxing cat neon light I introduce will make the party overnight. A wonderful neon art light to replace the boring desk lamp and add color to the darkest room.
Cat fruit storage basket
This cat fruit basket is decorative and versatile. Not only storing fruit, vegetables but it can also be used as a coffee pod holder, utensil holder, tissue holder,… you name it. Many have praised its durable and generous capacity design. Looking for something practical then you should get this.
The personalized Ceramic Cat dish
Another practical idea is to give your favorite cat-loving couple something beautiful for their home design in general. This cat tray is very versatile. Can be used to store items such as keys, papers or bring in the kitchen to store fruits and vegetables. Putting it into the garden, using it as a plant pot is also reasonable. All in all, an interesting multi-purpose gift.
Create this personalized gift to show how much you know them. Plus, the recipient can also improve their home's interior design style while relying on the warmth and comfort of a high-quality fleece blanket. This will honor both of the relationships: yours and theirs to the dear furry friend.
To sum it up!
This post is brought to you by the 365 fury team. We love pets and we know you love them too. So we want you to find ways, gifts,… to shout out this love to the world. In this post, we have browsed and highlighted products you might find interesting enough to be a wedding gift. If you find this article useful, please share this with your friends or join us now on Facebook, Pinterest to keep up to date with news about your four-legged friends.
---